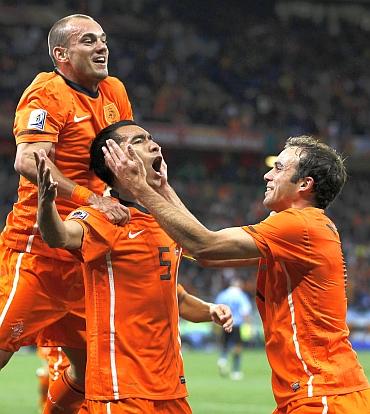 The veneer of objectivity is never strong among Scotsmen when their eternal foe is slain in battle. However, after the England team palpably fell on its own sword at the hands of Germany, I couldn't help but watch with glee as the Barmy Army lambasted the pitiful performance of their heroes.
The derogative amblings expressed by Franz Beckenbuaer may have riled the English players prior to the conflict, but once again the Kaiser was proved right. As journalists and fans alike aimlessly castigate their way through one scapegoat after another, from Uruguayan linesmen to FA grassroots coaching, there is no masking the hard facts. Throughout the World Cup, Capello confided in what was, unmistakeably, 'kick and rush' football. England deservedly reaped futile rewards for persevering such an ineffective strategy, and exited at the hands of a youthful German side.
One feels deluded towards believing we have witnessed the contrasting performances of an omnipotent German team, rather than an astonishingly sub-standard England side.
In fairness, this chimera has some substance. Germany's current crop of players boasts an average age of 22, while captain Phillipp Lahm is already chasing his second World Cup semi-final at 23 years old. South Africa has been the proving ground for Joachim Löw's arsenal of raw, but abundantly talented young sorcerers, namely Mesut Ozil and Thomas Müller. While the immortal utterance by Alan Hansen of "You don't win anything with kids" is somewhat obsolete, achieving the correct balance between youth and experience remains as paramount as ever. But when kinder play with such precipitant effervescence, allowing youthful impatience and ignorance to flourish ahead of fear and caution, the world should bask in their glory. South Africa has been the first world cup of recent memory where the German side relinquished its ubiquitous, clichéd stereotypes. Terms such as "ruthless" and "efficient" were replaced by "adventurous" and "spontaneous" – qualities one would have expected from Brazil or Argentina. As such, an identity crisis emancipated among the elite European nations; while Germany played fast, free-flowing, counter-attacking football, Spain stumbled and scraped their way past opponents in an uncharacteristically pedantic manner. The exception was their semi-final victory over Germany, where the Spaniards finally reported for duty, flaunting the passing master-class that won them the Euro 2008. The omission of
El Nino
Fernando Torres notably revitalised the Spanish heartbeat, overwhelming the obstinate Blitzkrieg of their opponents. One hopes Spain carry their revitalised verve and elegance into their first ever final, although it remains to be seen who Paul the physic octopus predicts as victors.
Juxtapositioned and playing the "German way", ironically, are the Dutch. Rather than aspire to the "Total Football" philosophy pioneered by Rinus Michaels, Holland have been staid and restrained in their unyieldingly pragmatic approach. The attacking trio of Arjen Robben, Dirk Kuyt and Wesley Sneijder utilised for harrowing and shadowing their opponents into surrendering possession. Not since Iceland supermarkets sacked their bright saleswoman, Ms Katona, have individuals played as close to the white line as Kuyt and Robben. Nevertheless, the Flying Dutchmen find themselves in only their third World Cup Final since 1974 and 1978, and victory would be the perfect send-off for Giovanni Van Bronckhorst. One thing though. If the Netherlands win on Sunday then Ryan Babel will retire with more World Cup medals than Johan Cruyff. Think about that.